For experienced skiers who have ticked off many of the resorts in the Alps, exotic skiing destinations renowned for their powder hold a special allure. Kashmir, Japan, Russia and Chile are among dream destinations but the ultimate edgy ski trip has to be to Iran. Tourism is growing at a stupendous rate, especially since FCO advice was relaxed for the country last summer.Overnight snowfalls in excess of 50cm are not uncommon at its two main resorts, in the Alborz mountains north of Tehran. Shemshak is 2,550 metres high, and Dizin 2,650 metres, with slopes up to 3,500 metres, making it the highest resort in the country, with views of Iran's tallest mountain: 5,610-metre Damavand.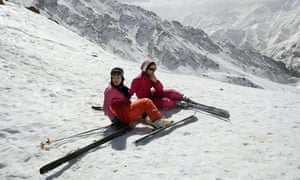 I picked Dizin for a day trip from Tehran in early December: a taxi takes about 90 minutes. Ali, a guide from new operator Toiran helped sort out equipment hire (just £8 a day) and a lift pass for £6. I yo-yoed up and down the French-built chairlifts and gondolas a few times and covered a good chunk of the ski area's nine wide, long, rolling runs and powdery bowls, full of fantastic dry snow.
Men and women are segregated on the lifts but unite at the top and can share food and tiny tumblers of tea in the few cafes and restaurants.
Up here the Islamic dress code strictly enforced in Tehran is casually relaxed. I saw peroxide-blonde hair pouring from under woolly hats and forearms scandalously uncovered.
"Sometimes the gaste-ershad [morality police] come up here, but most are bad skiers so we can escape them," said Soriah, from Tehran. At the foot of the slopes, she and her friends were drinking cans of non-alcoholic beer and smoking stubby Iranian-made Bahman cigarettes.
Source: 'I feel freer here' – high times on Iran's ski slopes | Travel | The Guardian